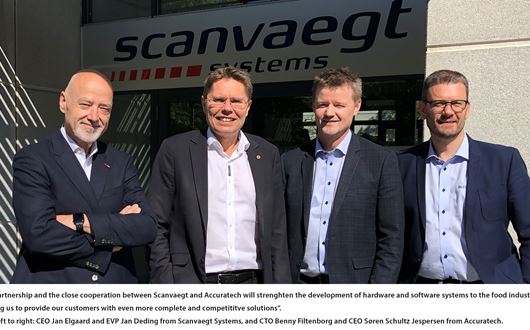 Scanvaegt Systems enters into partnership with Accuratech
On May 16th 2019, Scanvaegt Systems A/S acquired the majority stake in the software company Accuratech ApS. The acquisition constitutes a clear strengthening of Scanvaegt's solutions for the food industry and will benefit its customers.
A thorough analysis of the market potential and needs of the food industry has now concluded with the two companies - both of which are active in the food sector - joining forces to offer more complete and competitive solutions.
Scanvaegt Systems has acquired the majority stake in Accuratech, which will now be part of the Scanvaegt Group. This will entail a very close cooperation between the two companies in relation to developing hardware and software solutions for the food industry. Accuratech is a major player in the field of industrial software, and Scanvaegt Systems offers market-leading hardware and software solutions for the food industry. The present owners of Accuratech will carry on as the company's management and will accordingly continue to have the overall responsibility for the future software development and daily management of Accuratech.
A win for the customers
With these two heavyweights in the Danish market now on the same team, customers can look forward to even better solutions in the future. The management of Scanvaegt Systems and Accuratech had the following to say about the acquisition: "The strength of this new constellation is the many years of shared experience, our market position and an expanded staff of employees who will be working closely together on future solutions. The analysis also identified that customers want standard solutions that can be customised and upgraded. We will be better able to accommodate that need in the future with our new setup."
Software development to continue
Scanvaegt will continue its development of PlusFlex PM, which is a software system for management and monitoring of dynamic weighing systems among other things. Furthermore, Scanvaegt will also continue its maintenance and support services for PlusFlex and OrderFlex customers. Later on, the customers will be offered new upgrade packages in relation to the new software solutions. Accuratech will also continue its software development, maintenance and support of Shopfloor Management Suite for its existing customers and segments outside the food industry.
Accuratech ApS
Accuratech is a Danish software company which has specialised in the field of food production since 2004.  Accuratech offers customised software solutions and possesses extensive expertise in the areas of product registrations, traceability, quality assurance, mistake-proofing, operational monitoring, labelling, weighing, data collection and integration with other systems.
Contact
CEO, Scanvaegt Systems A/S, Jan Elgaard 
Tel.: +45 8678 5500,
E-mail: jel@scanvaegt.dk
CEO, Accuratech ApS, Søren Schultz Jespersen                    
Tel.: +45 25434202,
E-mail: ssj@accuratech.dk
WANT TO READ THE NEWS IN YOUR OWN LANGUAGE?