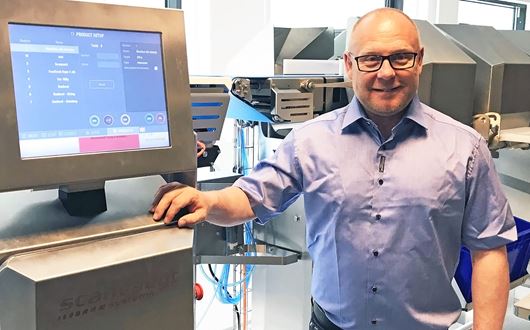 Meet Peter Toft, our new Market & Country Manager
We're busy at Scanvaegt Systems, assisting our customers in the food processing industry in optimizing production processes, by providing innovative solutions to increase capacity and yield.
To offer our customers the most solid expert knowledge, we have strengthened our sales team with Peter Toft, who has joined Scanvaegt as Market & Country Manager. Peter will furthermore be responsible for our export markets.
Peter holds considerable experience from 20 years selling processing equipment and portion control solutions, incorporating portion cutters, dynamic grading systems, multihead weighers and more, into food industry.
Previous Peter has been living in Spain, Portugal and Chile where he was responsible for sales and service units supplying processing and portioning solutions within the fish, meat and poultry industries. He has therefore gathered a vast knowledge of designing industry solutions that meet the individual customer requirements.
We're glad to welcome Peter Toft onboard the Scanvaegt Team.