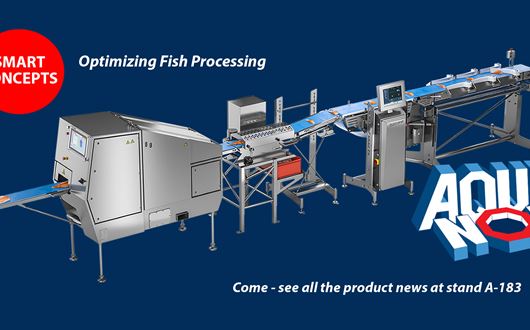 Visit Scanvaegt Systems at Aqua Nor 2019
We're presenting product news for portioning, sizing and manufacturing execution systems.
Scanvaegt Systems is introducing new portioning and sizing solutions as well as a brand-new MES system -  ScanPlant NG - for the fishing industry.
At our booth A-183 we'll demonstrate the ScanCut 225 Portioncutter and SP520 Compact Sizer, both of which reduce give-away and improve raw material yield, as well as a new MES system, which optimizes the production process – all targeted at increasing your profit.
ScanCut 225 PortionCutter: Precise portion cutting
With a cutting frequency of up to 2 times 2,170 strokes per minute, the ScanCut 225 Portion Cutters is an effective solution for cutting fish. The modern high-speed cutting machine cuts the products into portions with precise cut weight - this reduces cutting losses and ensures high yield.
Scanvaegt SP520 Compact Sizer: efficient sorting system
The new SP520 Compact Sizer is a fast, precise weight sorting system for packaging bulk products in the fishing industry. The system accurately weighs and serves products at speeds of up to 160 units per minute - ensuring maximum utilization of raw materials.
ScanPlant NG MES System: Improves processing and increases earnings
The ScanPlant NG Manufacturing Execution System is an exceptional tool for monitoring productivity, stock, yield and give-away in real time. 
Registrations from receipt of goods, stock, production and shipping form the basis for automatic key figures and real-time KPI. It provides a unique basis for insight, faster follow-up, better control and rapid intervention, thereby improving your company's earnings potential.
Visit us at booth A-183 - we look forward to meeting you and learning about your production needs.