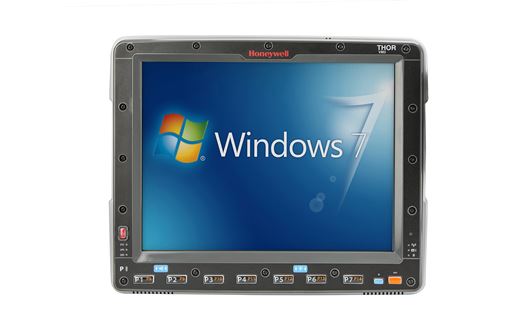 Honeywell
Thor VM3 Vehicle-Mounted Computer
Thor™ VM3 computer is the industry's most capable full-size vehicle-mounted mobile computer. for the toughest distribution center environments, manufacturing facilities and freight operations.
The VM3 computer combines a 30,73 cm display with breakthrough innovations that deliver rapid value for your workflows.
The Thor VM3 is equipped with Smart Dock, which lets you mount and remove the VM3 in seconds, saving on support and maintenance costs while maximizing efficiency. Backed by a durable IP66-rated design, the Thor VM3 computer is engineered to withstand the shock, vibration and ruggedness demands only a forklift can create.
The computer has a "Field-Replaceable" Front Panel, that reduces maintenance cost by allowing you to service the most wear- and abuse-prone components - the keyboard and touchscreen - yourself.A screwdriver is all you need. This feature also reduces capital costs by letting you substitute spare front panels for spare computers.
The Thor VM3 computer supports multiple Windows®-based operating systems, so integration and application development are simple as your business needs grow
Do you have questions or do you want us to call you?
Then send us an email – we are ready to assist you