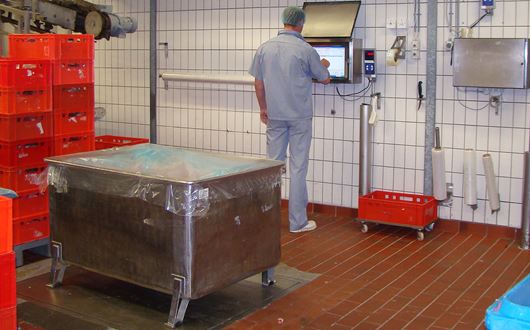 PlusFlex
Yield Control IT-system
The PlusFlex Yield Control System registers the product yields at the various processes, taking place in a food company. This contributes to complete control over e.g. loss at smoke-curing or increase at marinating etc.
The system consists of Scanvaegt's touch-terminals with the PlusFlex Yield Control registration software. The terminal are placed selected places in the company, where certain measuring points are defined. Normally a floor scale or another scale will be connected to the PlusFlex Yield Control System.
On the terminal the operator starts up a production order, in which he registers the product quantities, used in the process. After the process the weight is registered again on the production order. Now it's possible to follow the loss or increase of the product.
When identifying the products the operator prints ID-tickets, which follows the products.
The function is often combined with stock registration making it possible to enter or take out the products from stock simultaneuously. 
At registration it's possible to key-in or scan quality and control parameter about the actual production process - it may be PH-measurements, temperature measurements, time registration, operatr-ID etc.
A number of reports is available in the function, they can be generated based on production number, date, product number etc.