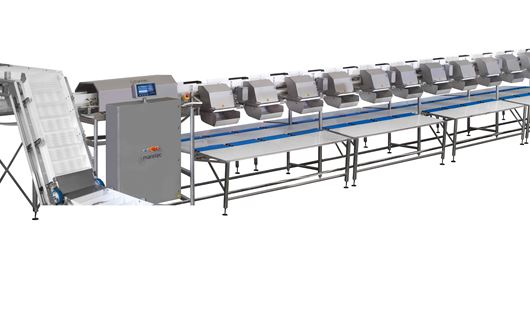 Setting a higher standard for grading and batching
The Classic Grader registers and combines the individual weight of fresh and frozen products and then grades the products according to or batches them in portions with minimum overweight - with an absolute minimum give-away, thus ensuring the maximum yield and profits.
The intelligent batching algorithm of the Classic Graders keeps track of the different products' weight and combines them at high speeds to produce portions with fixed size or portions with minimum overweight – this will reduce give-away and ensure maximum yield and profits.
The Classic Graders are the perfect solution for grading & batching to size as well as batching with minimum overweight. The system has a weighing range from 10g-20 kg and handles fresh as well as frozen seafood, poultry and meat at weighing speeds of up to 240 pieces/minute.
The graders have a sturdy, flexible design with a wide e range of separation methods. This enables us to create the very best solution for your specific production requirements and application, while at the same time keeping the maximum throughput as priority on the minimal footprint.
The wellproven functionalities of the grader delivers high accuracy, fast weighing and grading, a reliable, watertight construction together with several output possibilities. The system is userfriendly and very easy to clean, which will allow keeping-up high hygienic standards.
Smart Features
High accuracy

Fast weighing and grading

Max throughput

High Yield

Robust construction

Easy to use and maintain
Do you have questions or do you want us to call you?
Then send us an email – we are ready to assist you