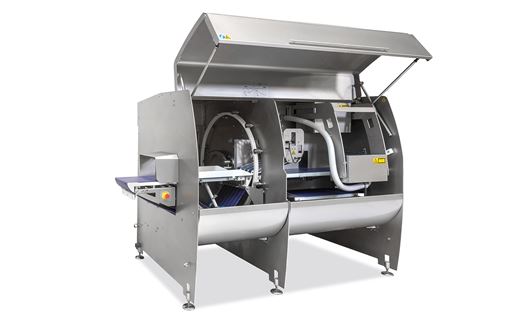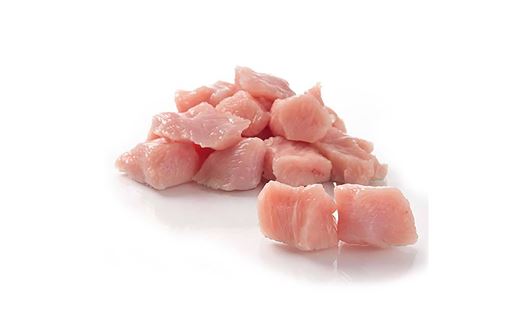 2-dimensional
cutting of chicken cubes
Application
This flexible line concept is designed for the poultry processing industry. 
Customer profile
Suitable for medium and large sized poultry processing plants that supply the retail industry or the food service industry in general.
Production
The trend in the food retail industry is for fresh chicken products delivered in new, smaller pack sizes that are prepared for easier home cooking. Food-processing companies need to accommodate this demand with the best yield utilization from the natural fluctuations in size, weight and shape of the raw material available. This line is suited for high capacity production of chicken breasts or chicken legs running dices, strips and medallion at accurate fixed weight sizes.
Application
The combination of two ScanCut 1 PortionCutters in one process line makes it a very flexible processing line, enabling 2-dimensional cutting – e.g. for diced chicken. The intelligent optimization software in the portion cutter scans and analyzes each piece of raw material. The system then instantly calculates how to optimize the cutting pattern and cuts the product into pieces, all of which remain precisely within the specifications.
Scope of delivery
2 x Scanvaegt ScanCut 1 Portion Cutter
The system is designed to cut fresh boneless chicken breasts and legs using the Scanvaegt ScanCut 1 PortionCutter. By having two poirtion cutters in one production line, it is possible to produce products such as diced chicken. The solution cuts with excellent control of both weight and shape whilst, at the same time, obtaining the highest possible yields.
System description 
The ScanCut 1 PortionCutter is the ultimate high-speed chicken portion cutter for the production of lean poultry. With a high cutting frequency the ScanCut 1 produces precise, fixed-weight portions while reducing give-away and maintaining a high yield percentage. 
More information
Here you will find more information about our portion cutters
Highlights
High capacity of perfect cut chicken dices with accurate weight

High yield and low give-away

Flexible system with fast change over between cutting angles

Low pay-back time

Sturdy and hygenic design

Userfriendly HMI
Do you have questions or do you want us to call you?
Then send us an email – we are ready to assist you