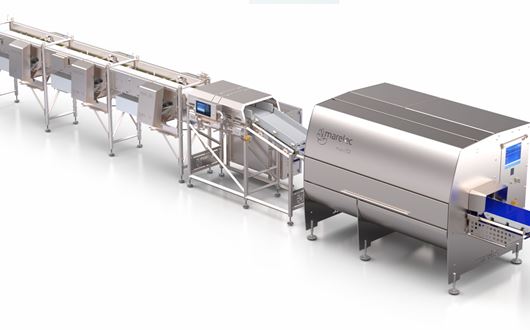 Chicken
fillet cutting and sizing solution
Application
This solution is designed for use in the poultry industry. It offers high capacity and perfect accuracy in the cutting of fresh chicken fillet for the retail and catering industries.
Customer profile
Suitable for small, medium and large sized poultry processing distributors who require portioning and sizing jobs in production lines with maximum utilization of raw materials.
Production
Suitable for harsh production environments, this solution efficiently cuts chicken fillets into precise sizes that fit the sales orders to be packed. Poultry breeders are managing to produce larger and larger chickens. This requires the food processing industry to be able to cut things such as chicken fillets into sizes that satisfy retail portion requirements. In order to obtain a natural look, a 45° knife angle cutting application is used.
Application
The integrated intelligent distribution control application in the portion cutter ensures that chicken fillets are precisely cut into the sizes and portions required for individual sales orders. This means that up to 6 cutting jobs can be handled simultaneously (6 target weights), ensuring high yield with the least amount of trim. The portion cutter scans each individual fillet and calculates how to produce the optimal yield, e.g. cutting to least amount of trim or cutting for maximum trim in order to use that trim for one of the jobs.
Highlights
Fast payback

High yield and low give-away

Hygienic and easy to clean

Easy to operate
Do you have questions or do you want us to call you?
Then send us an email – we are ready to assist you