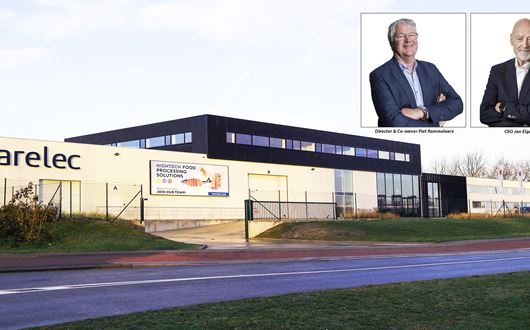 Scanvaegt Systems enters into strategic collaboration with MARELEC Food Technologies
As of 1 February 2020, Scanvaegt Systems A/S and MARELEC Food Technologies enter into strategic collaboration concerning hardware and software solutions for the food industry.
Both enterprises are market leading suppliers of automation solutions for primarily the food industry worldwide. With the new strategic collaboration, the customers are offered an enlarged programme of processing solutions that will create greater value and improve their competitiveness.

Scanvaegt Systems and MARELEC Food Technologies have had good cooperation for over a number of years in the sales of weighing solutions for the marine sector in Denmark. With the new strategic collaboration, the customers will get access to the combined product programme of Scanvaegt and MARELEC, including complete processing solutions. Combined with the extensive service network that Scanvaegt offers all over Europe, the new collaboration will provide great gains for customers.
The customers win
With the new strategic collaboration, the food industry will get one supplier with overall experience of more than 100 years within complete solutions with hardware, industrial software and service. Thus, the customer will get the value chain from the same supplier at a competitive price. The synergy between the two suppliers' solutions, products, experience, organisation and services makes the combination very valuable seen from the customers' perspective.
The food industry has an ever increasing need for automation – both in consideration of food safety, the environment and costs. The trend with more single families and less food waste results in a need for meat, poultry and fish products as well as plant based protein products in more variants/portion sizes than we know today.
Jan Elgaard, CEO from Scanvaegt Systems says: "We are pleased that this strategic collaboration has become a reality and we look forward to being able to offer the market and our many customers in Denmark, Norway, Sweden, Germany, Finland and Austria new optimised solutions that support the changed needs of the market, both with our direct customers and with consumers. The solutions offered in Poland, Romania and South Africa will be a teamwork between our companies and the local MARELEC distributor. At the same time, we anticipate employment of more employees already in 2020."
An extra dimension to the products
MARELEC Food Technologies has been in the market since 1983, and Piet Rommelaere, Director and Co-owner, says about the new collaboration: "We see a number of similarities between MARELEC and Scanvaegt. They are comparable in size and they have the same professional approach to customers. They can open the market for us in Scandinavia and they have a competent and well-developed service network all over Europe that can add an extra dimension to our range of products. In addition, we know them already from the collaboration concerning the marine sector in Denmark. A collaboration that has been good. Therefore, I look forward to contributing to offering the best service to the market and I am very pleased with the new formalised collaboration."
MARELEC Food Technologies 
MARELEC Food Technologies is a Belgian family-owned company that designs, develops, manufactures and sells high-technology solutions for optimisation of the food industry since 1983. The company produces portion cutters, graders, industrial weighing, marine and flow scales as well as overall production management software, all done in-house. The MARELEC team consists of 125 enthousiastic employees of which one third is active in research and development.. MARELEC operates worldwide and has distributors in 65 countries.
Scanvaegt Systems A/S 
Scanvaegt Systems A/S develops, manufactures, sells and services industrial weighing scales and weighing systems, portion cutters, grading and sorting systems, multihead weighers, labelling solutions, check weighers, metal detectors and x-ray equipment as well as related IT systems and traceability solutions.
The enterprise employs 220 employees and has its headquarters in Aarhus, a sales and service network in Denmark, subsidiaries in Norway, Sweden, Germany and Poland as well as dealers in a number of other countries. Scanvaegt Systems A/S is owned by the Danish company Grundtvig Invest A/S.
Go-to Danish website
Go-to Swedish website
Go-to Norwegian website
Go-to German website
Go-to Polish website
Contact
Scanvaegt Systems A/S
CEO Jan Elgaard 
Tlf.: +45 8678 5500
Mail: jel@scanvaegt.dk
MARELEC Food Technologies bvba
Director og medejer Piet Rommelaere
Tlf.: +32 475 43 33 65
Mail: piet.rommelaere@marelec.com