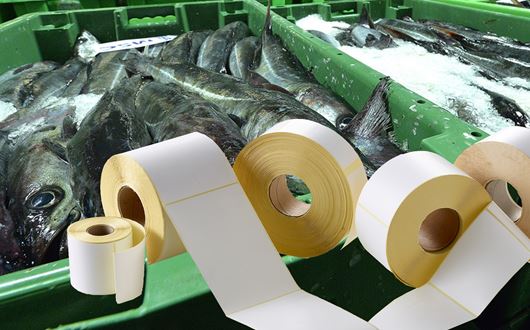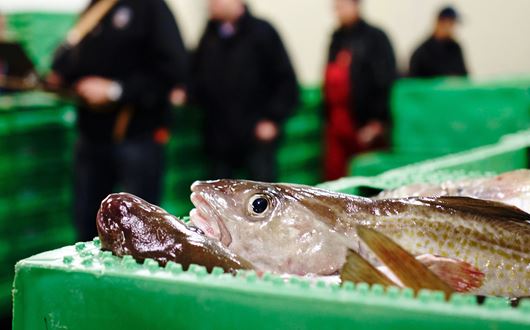 Labels for packing fish 
Do you want high-quality labels that stick firmly, withstand moisture and preserve print? 
And do you want to make sure that your label printer works optimally?
Scanvaegt offers thermo- and thermo-transfer labels for fish packing with a extra strong adhesive that sticks firmly to all fish products.
We have many years of experience with both labels and label printers - we therefore know what requirements the label must meet in order to function optimally. This ensures you a number of benefits, including:
High quality labels 
For sea packing of fish, we produce robust labels with strong adhesives, which stick firmly, preserve print and withstand moisture.
Less - or no - downtimes
With in-depth knowledge of labelling equipment, we can produce labels that run smoothly and reduce wear on the thermal head. You'll avoid expensive downtime.
Lower maintenance costs
When the label has the right quality and surface treatment the wear on the thermal head of the labelling equipment is reduced. Consequently, it will have a longer service life and will not need to be replaced as frequently. You reduce maintenance costs.
Labels-on-time
You can make an annual agreement on regular deliveries of labels at specific times during the year - when you need labels. You get fast, just-in-time deliveries.
All label types from the same provider
We have a comprehensive production and can supply multi-coloured sale labels, Linerless labels and neutral white labels for carton or pallet labelling. You get all your labels from one provider.
A good price 
You'll get your labels at very competitive prices. And if you already have Scanvaegt labelling equipment in your service agreement, we can also offer you an extra discount on a delivery agreement. 
Leave us a message
Please ask for advice -  experts from Scanvaegt Systems are happy to help.