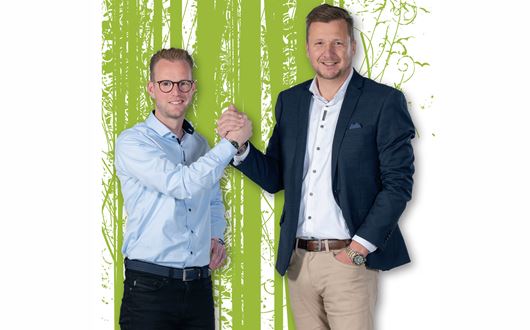 Scanvaegt Labels launches a new growth strategy and management
Scanvaegt Labels has appointed an entirely new management team with a new CEO and production manager. Together, they will work towards an ambitious growth plan and a green transformation of Scanvaegt Labels.
The transformation will be part of Scanvaegt Group's overall sustainable solutions and the group's goal of providing customers with greater competitiveness.
Growth in new markets and segments
Scanvaegt Labels has been supplying labels to the retail sector, food industry, and non-food customers for many years, but now faces an ambitious growth plan. Growth will be achieved through cross-selling and synergies with Scanvaegt Group, as well as a stronger market approach.
The newly appointed CEO, Henrik Rhode, says: "We will grow both with our existing customers and with shared customers within Scanvaegt Group. Together, we can offer one-stop-shopping, which we know customers demand and which increases their competitiveness. Growth will primarily occur in export markets, primarily in the Nordic region, and by increasing market share in Denmark. I see significant potential in logistics labels, which we see increasing demand for and for which we have the production capacity, as well as in linerless labels, where we are leading in Denmark."
Increased uptime
Linerless labels are labels without backing paper, and Scanvaegt Labels was the first in Denmark to launch a complete solution with both hardware, software, and labels. Linerless labels require fewer label roll changes, as the label rolls are longer due to the absence of backing paper, resulting in increased uptime. Each label is precisely cut to the length required for the product text, reducing waste, which, along with the absence of backing paper, provides a more sustainable solution.
Well-known team
Scanvaegt Labels has employed a well-known team in the industry, namely Henrik Rhode as CEO and Anders Hartmann Christensen as production manager. Both have extensive experience in the label industry and have previously worked together at Danlabel, Maj Invest, and Schur Labels.
"I believe that it is a significant advantage that we know each other so well and that our skills complement each other nicely. We focus on many areas within Scanvaegt Labels, but one of the things we particularly focus on is the green transition and long-term partnerships, both with customers and within Scanvaegt Group. I am very confident in the growth strategy we are facing," says Henrik Rhode.
Green focus
Production manager Anders Hartmann Christensen says: "The green focus needs to be accelerated. We already deliver prints with water-based inks, which are more environmentally friendly and safer for people, and we are strong in linerless labels, but we need to go much further. We are aiming for a green transformation, which includes further waste reduction, lower energy consumption, etc."
Anders Hartmann Christensen continues: "Another area we need to continue to focus on is our competent employees. We have many employees with long tenure who have good relationships with our customers. We need to continue supporting that."
Scanvaegt Labels
Scanvaegt Labels is a part of Scanvaegt Systems, which has been working on the automation and digitization of the food industry, environmental and energy sectors, and the retail sector since 1932. Scanvaegt Systems is part of Scanvaegt Group, a solid and well-consolidated group with the highest credit rating, AAA.
Scanvaegt Labels has had its own label factory in Odense since 2000 and, through Scanvaegt Systems, can offer a unique service concept and deliver complete solutions with hardware and software that support one-stop shopping.
Scanvaegt Systems, where Scanvaegt Labels is a part, is headquartered in Aarhus and has sales and service networks in Scandinavia and Germany. The company has subsidiaries in Norway, Sweden, and Germany, as well as dealers and strategic partnerships in many other countries and is owned by Grundtvig Invest.