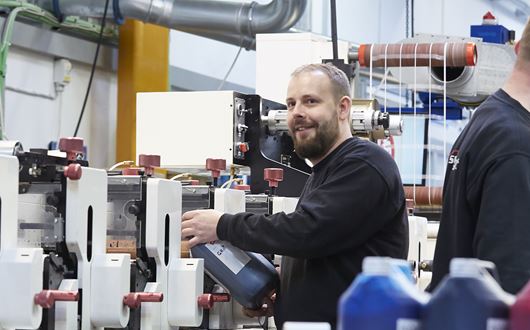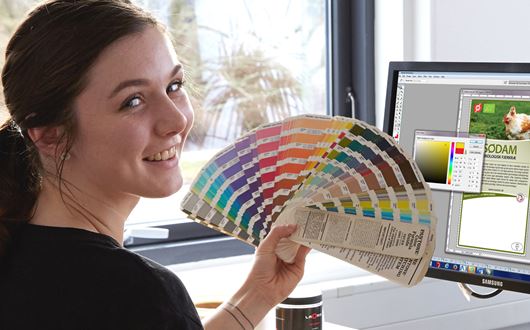 About Scanvaegt Labels
Scanvaegt Labels is a versatile printing house, that will ensure your products the best presentation with exclusive quality labels which will promote sales
Highly-skillful employees, high-tech printing machinery and a close cooperation with the parent company, Scanvaegt Systems, which is supplier of labelling equipment, makes Scanvaegt Labels an expert supplier of unique, dashing and functional quality-labels.
Detailed Technical Competences
Scanvaegt Labels is a versatile label printing house, that bases the work on thorough preparations, technical know-how, quality control and creativity – this is your guarantee for the very best label.
We print up to 8 colours at a time, including cold foil, silver/gold, and can deliver multi-coloured, self-adhesive labels, Linerless labels, labels for thermo- and thermo-transfer print, labels with backside-print, bottle labels, RFID labels, tickets, tags and neutral/white labels.
Labels of technically high quality prevent breakdowns  
Our technical know-how within labels as well as labelling equipment enables us to make  labels with high quality adhesives and coating, which will run smoothly and reduce the wear and tear on the printing head of the labelling equpment. This results in longer life, fewer breakdowns and reduced expenses to maintenance.
We are supplier of labels for the food industry, the retail sector, the pharmeceutical industry and many others, and have therefore detailed insight into the requirements, that the labels have to comply with to function properly on different types of product - whether they are wet, frozen, cold/warm or dusy.
Focus on the quality of the label 
We place extensive focus on the quality of the label and ensure that:
• our printing inks are fast and stand up to strong light, moisture, cold and other external impacts
• our adhesive types stick most firmly to moist, frozen and dusty as well as uneven products
• our thermo- and thermo-transfer labels have a surface-coating, which preserves colours and print.
• our paper types are of the highest quality and adapted to industry and environment.
Colours

8

Printing machines

5

Established

1969
Career
Innovation and originality are prerequisites in order to maintain our position as market leader - therefore our employees represent our most important resource.
Being an employee with us you can be sure of getting a technically challenging workday with the possibility of developing both your personal as well as professional qualifications. We find it important that the individual employee is able to work both independently and in close co-operation with other efficient employees depending on the assignment or situation in question.
We offer continuous internal requalification courses and also support participation in external specialist education contributing to improve the professional qualifications of the individual employee. The professional competences of our employees and their dedication to our firm are key elements in fulfilment of Scanvaegt Systems' general goals.
Versatile competences
At your service
Demand analysis 
Allow us to analyse the job – this will ensure you a precise assessment of the possibilities and enable you to choose the best solution.
Solution 
We combine the demand analysis with our expert knowledge and provide you with the best proposal for your new label – maybe with a new angle, a wider perspective or more options?
Labels design 
We may also assist you in designing the label - by making use of our creative and technical expertise you'll achieve the greatest layout and the most reliable label.
Repro 
We can assist you in making sure that your printing files have the highest quality and the right setup -  in doing so you'll have the finest printing quality on the labes.
Printing
We have an advanced printing machines, a complete work-flow and very proficient employees. We put great emphasis on all steps in the process, eliminating risks for errors and misunderstandings.
Completion 
We have all modern machines for completing the labels at our disposal. We can roll-up,fold or sheet cut the materials, according to requirements.
Delivery 
We have most paper types in stock, which ensures fast production and short time of delivery. 
Label Hotel 
We can also offer to keep your completed labels for you in our Label Hotel and the deliver them on fixed dates during the year.