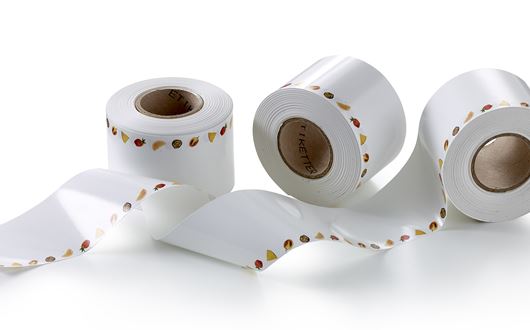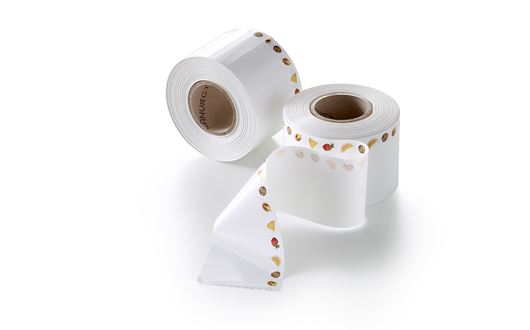 The new linerless labels eliminate label wastage, reduce consumption and increase flexibility.
MORE INFO? PLEASE, GO-TO YOUR OWN LANGUAGE: 
Dansk 
Svenska
Norsk 
Deutsch
Polski
Linerless labels consist of a long, continuous roll of label paper with adhesive on the back – there are no individual, separate labels on the roll. The roll does not contain silicone backpaper either, which harms the environment.
When printing a label, the print length is automatically adjusted so there is no empty space on the label – this prevents unnecessary label consumption. An automated cutter on the print equipment cuts the printed label.
A variety of label layouts and lengths can be printed on the same label roll.
The automated label adjustment eliminates unwanted space and ensures an automatic adjustment of the label size. This reduces label paper costs and makes the printed labels more exciting.
The labels can be supplied with both print of e.g. logo and an ornamental edging in your own design, and without print in white or other colours.
Both paper material and adhesives are approved for use with food, and are inspected by the Danish Food Administration.
Smart features
Labels of the highest quality

Reduced label-comsumption

Food-approved materials

Competitive prices

Lower maintenance costs

Short delivery times
Do you have questions or do you want us to call you?
Then send us an email – we are ready to assist you