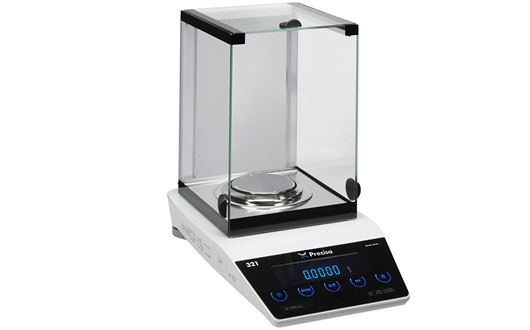 Precisa
321 LX Analytical/precision scale
Precisa 321 LX is a userfriendly analytical/precisions scale, that can handle a number of different jobs, e.g. piece-counting, percent weighing, live Animal weighing, density determination, plus/minus check weighing, formulation, weight by totalisation, free unitcalculation, statistics calculation and recorder function and Automatic Reproducibility Test (ART). 
The sophisticated user-interface utilizes a new softTOUCH technology for its control. Touch pads, illuminated only when a function is active, guide the user and allow fast and error-free operation. The super-bright blueLINE VFD display takes easy reading to a new level.
321 features easyCLEAN – the easy wipe-off balance and draft shield design. The unique concept of the new draft shield with 270° unobstructed view allows tool-free dismantling and assembling in seconds and can be easily cleaned in your dishwasher.
The balance comes as standard with RS232 and USB interfaces and connects to the wide variety of Precisa accessories and communication adapters.
Smart features
Die-cast aluminium housing of the balance

BlueLINE high contrast blue vacuum fluorescent display

Optional with fully automatic internal calibration system, programmable on time or temperature controlled (SCS)

Clock with date and time

Printout according GLP

USB device and RS232/V24 bi-directional interface as standard
Do you have questions or do you want us to call you?
Then send us an email – we are ready to assist you