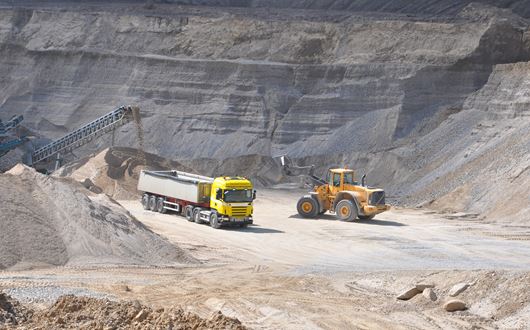 Solution
for raw materials dosage
This Scanvaegt solution controls the delivery of a set volume of raw materials, which comes in a continuous flow. The system handles dosage control, weighing of trucks and integration to the ERP system.
The solution can be used on several different weighing systems, such as weighbridges, belt weighers, flow weighers as well as silos with integrated weighing system.
Dosage on weighbridge
The weighbridge is positioned in connection with a warehouse, a silo, a container or similar. Here, the driver drives the truck onto the weighbridge, identifies himself by using a RFID card and then enters item number and required volume on the weighbridge terminal. The delivery will now commence and the ordered volume is delivered down into the truck.
The driver approves the weighing on the terminal and the registration is saved in the system. The weighing data is then transferred to ScanX.NET from where it can be exported to the administrative system for reinvoicing.
The solution consists of:
Weighbridge type 7800 or 6200, Schenck belt weigher or silo with built-in weighing system.
ScanX.NET 2.4
ScanX.NET Delivery module
VT200 or VT 180 terminal with RFID card reader
Touch-free RFID card
Do you have questions or do you want us to call you?
Then send us an email – we are ready to assist you