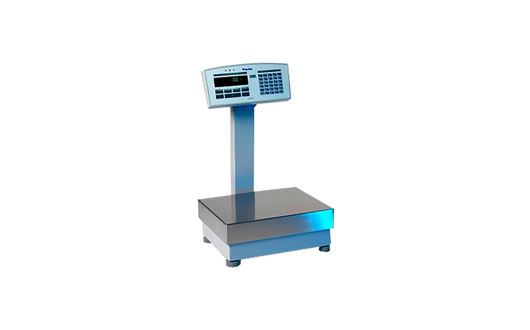 Precisa
490 K Industrial precision scale
The 490K series is sturdy, industrial precision scales with counting function, checkweighing of products with control of over-/underweight, filling function and many more features.
The precision scales have a solid cabinet and product platter in stainless steel, a clear fluorescent, dustproof display, auto-calibration and double weighing range.
The 490K is available with 10 weighing capacities - ranging from 12,100 gr/0,1 gr to 60,100 gr/1 gr. It's water- and dustproof to IP65 and has the dimensions dxwxh: 400 x 465 x 150mm (incl. indicator). 
Logging of the measuring results in conformance with ISO and GLP. There is a configurable printing protocol.There is a RS232/V24 / Precisa-Bus Interface.
Integrated application programs:
Selectable weight units switching
Counting feature
Percent weighing
Net total calculation
Sum computation
Weight per unit-area computation
Live animal weighing
Density determination
Statistics program
Weighing control
Differential weighing
Dynamic weighing
Minimum Sample Weight (MSW) setting
Lift correction (BEST)
Manual tare input
Smart features
ICM (intelligent Calibration mode), automatic recognition of external calibration weights.

Anti-theft lock code

Password protection for stored programs

Clock with date and time

Logging of the measuring results in conformance with ISO and GLP

Configurable printing protocol