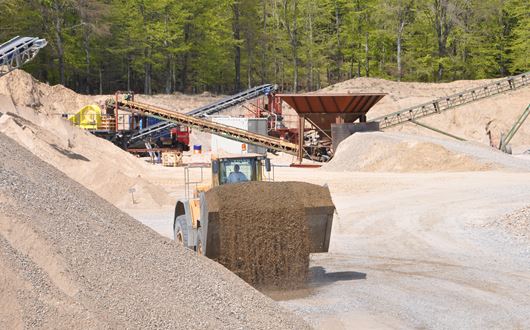 Solution
for raw materials delivery
Scanvaegt's solution handles the weighing-in and weighing-out of trucks, management of delivery, access control to the area, control of barriers, communication and integration to the ERP system.
Fast execution
The driver weighs-in the empty vehicle on the weighbridge and enters the relevant data for the materials he has to collect. This may be item number, customer number, delivery, order number and similar. The system guides him through the registration, after which the vehicle can drive over and be loaded with the raw materials.
If you require a faster execution, you can choose to have the vehicle's empty weight (tare weight) pre-registered in the system. Then the driver does not need to perform the first weighing - the weighing-in of the empty vehicle - but just needs to weight-out the fully loaded vehicle and read the RFID card.
Once the weighing is completed, all weighing data is automatically exported to the customer's administrative system where the invoicing can be done without needing further manual registration.
Integration to Pfreundt weighing system
The Scanvaegt solution can be used together with Pfreundt weighing systems for loader tractors. Via the ScanX.NET Gravel module, there is integration between ScanX.NET and Pfreundt's WK60 terminal on the loader tractor.
This means that weight data from the weighing of raw materials done with the loader tractor can be transferred and correlated with weight data from the weighbridge.
The solution consists of:
Weighbridge type 6200
ScanX.NET 2.4
ScanX.NET Gravel module
VT200 terminal with RFID card reader
Touch-free RFID card
Do you have questions or do you want us to call you?
Then send us an email – we are ready to assist you