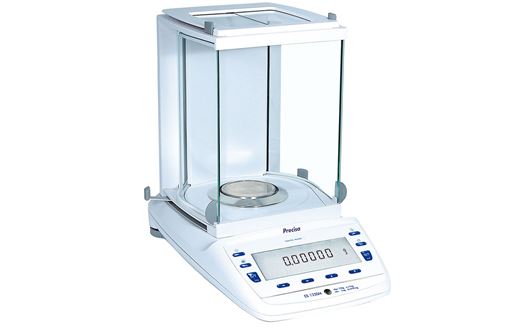 Precisa
360 ES Analytical/precision scale
The 360 ES series owes its extremely high reliability and durability to the well-known competence of Precisa's engineering and development.
The weighing cell is of the highest mechanical quality, operates extremely precisely.
The structured access to the balance menu and the clearly presented, easy to read backlit LCD offer simplicity of operation.
Precisa's new 360 ES series has standard an USB device interface to communicate with a computer as well as an RS232 interface for the connection of computers and printers.
The 360 ES is available with various weighing capacities, ranging from 125 gr/0,1 mg to 12.200 gr/1 g - six models have dual-range.
Smart features
Fully automatic internal calibration system, programmable time and temperature controlled (SCS)

Draft shield with ambidextrous operation

Die-cast aluminium housing of the balance

Clock with date and time

High contrast backlit liquid crystal display

High resolution weighing cell with optimised electronic control