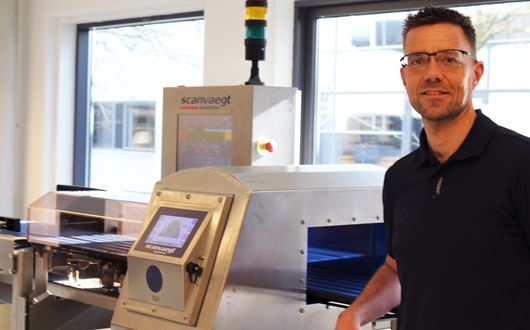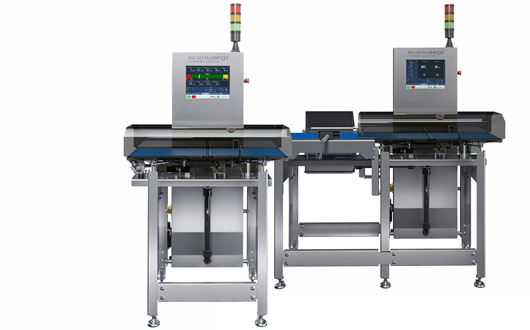 Efficient checkweigher – now also for dry packaging environments
A stable and accurate checkweigher is many companies' be-all and end-all on the packing line. Precise weight equals quality and profitability.
Scanvaegt Systems has sold countless weighing systems for the wet environment in the food industry and is now also ready with an attractively priced variant targeted at the dry environment in the packaging department. The new machine matches the requirements for smart production and a high level of reliability.
SC505 is the name of the new fully automatic checkweigher developed and produced by Scanvaegt. It is a machine designed to be operated in dry packaging environments for checking all types of wrapped products in trays, bags, boxes and cans. For example, the minced meat is packed in a tray, sealed with a film in the wet environment and moves on the line into the dry environment, where the tray with contents is check-weighed.
Short payback period
"This is the first machine we have designed for the dry packing environment. And since the cleaning requirements here are not as strict as for machines in wet environment, we can make a low-cost version, based on our wellproven weighing technology. We are talking about a payback period of less than one and a half to two years," says Product Manager Brian Dahl from Scanvaegt.
Flexible machine
The machine is modular and based on standard components and proprietary software.
The SC505 is available in lengths from 1 metre up to 3.5 metres, with a width of 0.71 metres, and can be configured with a metal detector, filling process control and data acquisition software. One model can weigh products up to 1.5 kg in 0.5-gram increments, while the other model can weigh products up to 3.0 kg in 1.0-gram increments. The top speed is 250 small products per minute.
You get the following with the new SC505 checkweigher:
Higher quality
Increased earnings
Better yield of raw materials
High reliability and uptime
Six different language versions
Nationwide service
Effective quality control
"The new checkweigher prevents both overweight and underweight products and automatically rejects products attached with errors or outside the range in terms of weight.
If the weight trend decreases, a signal pops up that the filling process needs to be adjusted. The machine thus optimises product quality and improves production efficiency," explains Brian Dahl.
The SC505 is designed with a safety solution that ensures that all steps in the packaging line stop in the event of "chaos", for example if a product is jammed. This avoids the accumulation of products on the line and the risk of waste if products are damaged or fall on the floor.
User-friendly operation
"We have worked a lot on developing user-friendliness and have designed a graphical display of the average weighing. Whereas before, the operator had to check the weight in numbers on a small screen, now the operator has to keep an eye on colour symbols on a 15" touch screen. Red for underweight, yellow for overweight and green for OK weight, and it works really well and gives a good overview," Dahl emphasises.