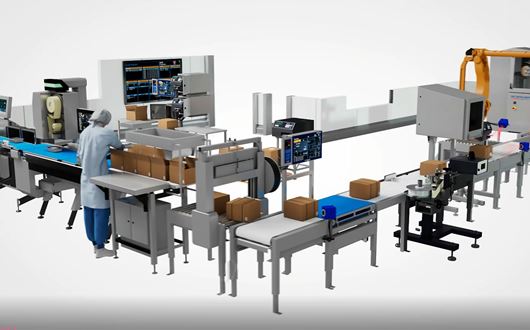 Create better profitability in the Packaging Department
Scanvaegt Systems is a supplier of fully-automatic, scalable end-of-line solutions, complete with hardware and software, which automatically handle all processes - from weighing, labelling and quality checking.  
The EOL solutions are designed to optimise the packing processes, by creating higher capacity, automisation and workforce savings together with the elimination of typing errors and zero data errors.
The payback period for an EOL solution is often less than a year as it often can reduce working hours equal to a full-time position per step in the EOL processes.
When it comes to automation, the Scanvaegt customers are leading the way - and that includes several medium-sized companies. They all know that optimised production and packing processes leads directly to increased revenue.
For the first process in the packing line - weigh price labelling of retail packs – the Scanvaegt WPL system with a max speed of 120 items per minute, is one of the most efficient and dependable systems on the market. This system weighs the package and labels it with info about weight, date, batch number and bar code. In case of over- or underweight it's automatically rejected, preventing packages with the wrong weight to be shipped.
For the next process – the box weigh labelling - the boxes are sealed, weighed and labelled by the Scanvaegt ABWL line. The system increase packaging flow up to 20-30 boxes per minute with correct labelling guaranteed and it's capable of handling several different box types and sizes on the same line. If the box doesn't comply with the requirements, it's automatically rejected. The automation of the process allows the company to save working hours and reduce labour costs considerably.
At the final process in the packaging department, the Scanvaegt solution automatically labels the pallet with the boxes with SSCC labels on two or three sides and, if required, at different heights. The system can also check the readability of the barcode on the label and ensure that it can be read by barcode scanners when it reaches the customers.