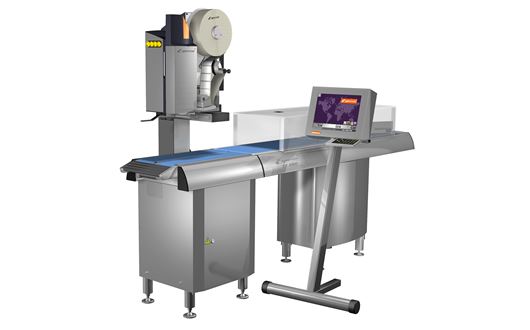 The ES8000-series is a high-speed weight-/price labelling systems, capable of applying labels on the topside and/or underside of the product at a speed of up to 150 products per minute.
Additional printers give you the possibility to label your products from the top and the bottom. The machine management can be done easily by our control software ESMS.
With this Price Labeller a more efficient use of production time is effortlessly achieved, not only because it labels up to 150 packs per minute, but also because there are no longer any "setup" times, i.e. while one order is in progress, preparation can be made for the next ones.
ES8000 stores the cross adjustment settings of the printer are stored in the pack set-up program - this makes it fast and easy to start-up the next labelling job.
Available with weighing capacity of 3 / 6 kg with division of 1 / 2 g.
Smart features
High-performance system for large capacities

Labelling output: up to 150 packs per minute

Interactive Price Labelling with ESMS control software
Do you have questions or do you want us to call you?
Then send us an email – we are ready to assist you