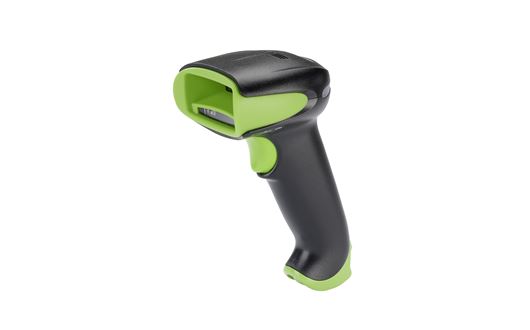 Xenon
1902g-bf Barcodescanner
The Honeywell Xenon™ 1902g-bf area-imager scanner is Honeywell's latest barcode scanner powered by super-capacitors – eliminating the battery for a green, environmentally friendly scanner.
This powerhouse solution is capable of scanning over 450 barcodes on a single charge, and can be recharged in less than 60 seconds via a powered USB port. The 1902g-bf is fully charged in under two minutes with a simple USB connection, and in under 30 seconds when a powered USB or external power supply is used.
The Honeywell Xenon™ 1902g-bf area-imager scanner incorporates the latest in battery-free technology, offering the freedom of Bluetooth® low-energy wireless technology without the maintenance hassles or long recharge time associated with traditional batteries. Like all other Xenon scanners, the 1902g-bf scanner delivers aggressive barcode scanning performance – even on poor-quality or damaged barcodes.
An integrated Bluetooth low-energy Class 2 radio gives users complete freedom of movement up to 10 meters (33 feet) from the base in a typical work environment. For added convenience, a paging system on the base activates auditory signals that help to locate a misplaced scanner. By eliminating the trip-hazard of tethered cables, the Xenon 1902g-bf scanner can provide a safer and more productive environment.
Do you have questions or do you want us to call you?
Then send us an email – we are ready to assist you