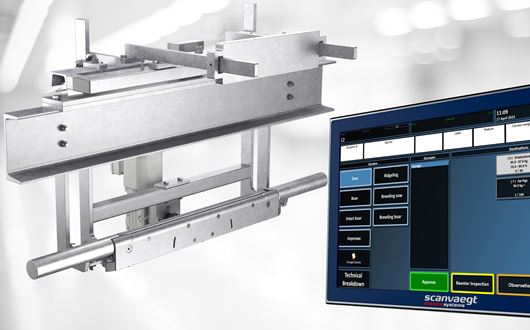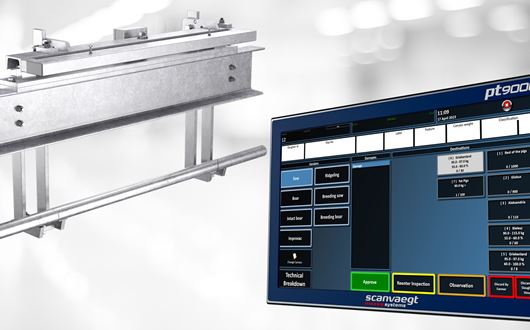 Precision and strong weighing processes for the slaughterhouse
Scanvaegt Systems strengthens its efforts towards slaughterhouses and is ready with a combined hardware and software solution for automated weighing processes and data collection. The package includes full traceability and an efficient yield calculation that improves profitability.
It is a new generation of automated overhead track scales that Scanvaegt has developed for slaughterhouses. The hardware is connected to the ScanPlant NG software system, which several food companies use as their full-scale factory system.
"The overhead track scales have a strong, robust construction and are located under the ceiling of the slaughterhouse. There may well be five or six overhead track scales from weighing to cold storage and later on the slaughter line during the various processing operations," says Peter Toft, International Business Manager at Scanvaegt Systems.
The overhead track scales include the automatic-static series 4200 with a capacity of 400-500 weighings per hour and the automatic-dynamic series 4300 with 1,000-1,100 weighings per hour.
When the carcasses, propelled by carriers on a conveyor system, reach the scales, they are either taken over by a chain feed on a dynamic scale or dropped onto a static scale and weighed. The overhead track scale is designed with both ball joints and cups to ensure that the load cell is not overloaded and can withstand fluctuating loads while delivering accurate weighing results.
"We have developed a new series of overhead track scales that can withstand many years of use in the harsh environment and provide a very reliable and competitive solution," Peter Toft points out.
ScanPlant NG software for complete production management 
The ScanPlant NG MES software used for the overhead track scales communicates with the slaughterhouse's automation systems. Operation occurs via Scanvaegt's pt9000, a fast and powerful Windows-based industrial computer with an 18.5" touch screen for tasks such as production management, order packing, dispatch, monitoring, data collection and IoT (Internet of Things).
Everything from veterinary inspections, weighing of entrails, classification of meat product including fat measurement is recorded by the software system.
"The slaughterhouse gets a lot of concrete data, for example for yield calculation. This means that the slaughterhouse can make much better use of the raw materials and thereby achieve a higher profit per kg of meat. In 24 hours, such marginal gains can add up to a lot of money," emphasises Peter Toft.
Highlights:
Robust steel construction in hot-dip galvanised finish with an IP67 rating
Two weighing cells per overhead track scale
High reliability, long service life and easy cleaning
Made with special weighing technology for swinging loads
EU type-approval
Do you have questions or do you want us to call you?
Then send us an email – we are ready to assist you