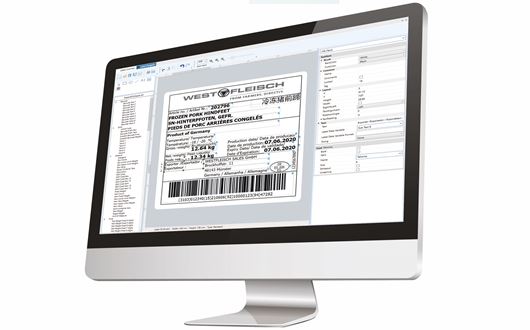 ScanPlant-NG
LabelDesigner
ScanPlant NG LabelDesigner is a new, user-friendly label design software system that speeds-up the design work and simplifies setting up new labels. The system is easy to use with logical, userfriendly functions, providing better usability and  faster operations.
The labels can be freely designed with all types of text, graphic symbols, lines, frames and barcodes, incl. 2D barcodes as Datamatrix and QR. The labels are displayed in WYSIWYG mode with realistic, actual product data, and are printed exactly as the design is being displayed on the screen, thus avoiding several complicated and time-consuming test prints.
Design of all label types
ScanPlant LabelDesigner is a flexible system that can design numerous label types, for instance:
Retail labels with product description, lists of ingredients, nutritional values, storage instructions, packaging date, best before date, traceability data with batch No., origin, supplier data and net weight, possible price per kg and end-price
Box labels according to GS1 guidelines with 1D or 2D barcodes
GS1-standard A5 pallet labels with SSCC barcodes
Shipping labels
Unlimited fonts, characters and barcodes
LabelDesigner uses standard Truetype fonts from Windows. It allows you to use your own company font types, ensuring the best possible profiling for the product.
The system uses Unicode fonts, making it easy to create labels with foreign characters, e.g. Greek, Chinese, Arabic or Russian. In addition, the texts can always be copied directly from other Windows programs to the label.
ScanPlant LabelDesigner also supports all barcode types, used by the food industry; EAN, GS1 128, INT 2 OF 5, ITF14 as well as 2D barcode types- QR and Datamatrix.
Automatic highlight of allergens
Scanplant LabelDesigner has incorporated an allergen function that - based on a list of allergenic ingredients – automatically highlights those allergenic ingredients on the label, if present in the product, as required by the authorities
Quick setup of data fields
The LabelDesigner-module is a fully integrated solution in ScanPlant NG Manufacturing Execution System, where data is located at a SQL database. That means that there are no complicated external files to handle manually – this saves working time. Variable data fields are selected from a list from ScanPlant SQL database, making it quick and easy for the operator to setup a label.
Several smart functions
A line of smart functions in LabelDesigner makes both the design work and the daily use even more convenient. For instance, the system prints a label very quickly, as the label design is transferred to the printer as a graphic image – the printer does not have fonts installed locally, which means that there is no risk for a stops due to full printer memory.
It is also possible to save already printed labels as documentation for later use.
The ScanPlant LabelDesigner system can be used with the most widely used label printers, e.g. Honeywell and Zebra printers.
Highlights:
Printing of outlined characters/signs
Supporting all barcode types
Easy set-up of data fields
Automatic highlighting of allergens
WYSIWYG display and print
Flexible design of all types of labels
Quick label printing