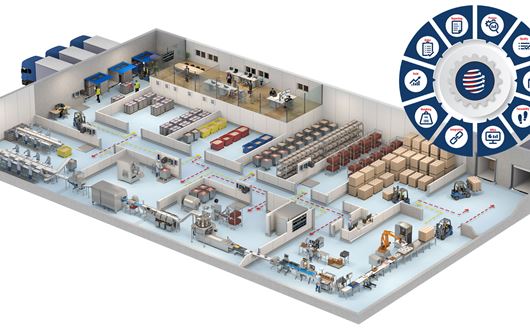 ScanPlant NG - new manufacturing execution system improves the company's earnings
ScanPlant NG captures registrations throughout the entire plant - from reception of goods, storage, production, packaging to dispatch. This provides insight for optimizing the processes and improving your earnings.
Since Scanvaegt Systems and Accuratech May 16th entered partnership, both companies have worked on developing new hardware and software solutions for the customers in the food industry. The close cooperation has now resulted in a new manufacturing execution system – ScanPlant NG – which optimises the production processes and thereby makes for higher earnings.
ScanPlant NG – Next Generation – is an exceptional tool for monitoring productivity, inventory development, yield and give-away in real time. 
The system captures registrations from reception of goods, storage, production, packaging and dispatch, which forms the basis of automatic key figures and KPI's in real-time. This provides insight, faster follow-up, better control and allows rapid intervention, which will improve the company's earnings.
Increased yield
With ScanPlant NG even minor deviations in the different processes can be detected. This allows you to take preventive actions, reducing give-away and avoiding huge losses of the overall profit. Yield can be controlled on different levels, e.g. department, days, shifts, batches by operator or by hardware equipment.
Info in your own language?
Smart Features
Full Traceabillity

Efficient Quality Control

Smooth Data Integration

Time-saving and userfriendly

Scaleable and flexible
Want to learn more?
Full Traceabillity
ScanPlant NG provides traceabilty through all steps in the production flow – from goods intake, cutting, recipe weighing, processing, inventory, packaging and dispatch. This ensures fully documented traceability, where the individual items and ingredients can be traced back to at any given time and place in the process.
Smooth Data Integration
ScanPlant NG is an open system which can integrate to other it-systems as well as hardware equipment, incl. 3rd party devices. This means that all production data can be captured, combined and presented in one single system.
Scaleable and flexible
ScanPlant NG is made up by modules that can be combined to fit precisely to your production and requirements – the solution can be scaled from a single function and up to a large complex MES system. ScanPlant NG has modules for e.g. Process Management, Inventory Management, Order Management, Quality Management, Weighing & Labelling and Traceability Management.
Time-saving and userfriendly
ScanPlant NG has a userfriendly operator interface with logical functions and a smart screen design, which can be customized to the individual process, displaying only the relevant screen content in the relevant language and skipping unnecessary fields. This saves time in every single job, speeds up production, and prevents registration errors.