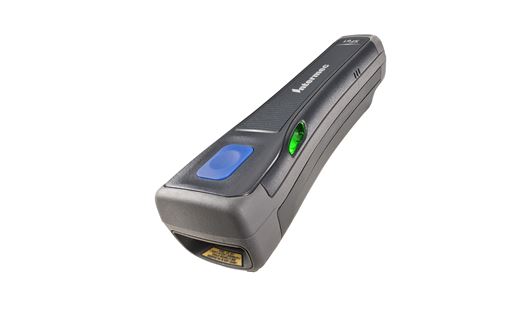 Intermec
SF61B Barcodescanner
These rugged 1D and 2D pocket scanners offer performance characteristics commonly found in full-size scanners, but at a fraction of the size and weight.
Despite its compact size, the SF61B scanner boasts the same high performance 2D imagers as our full-size handheld scanners. With outstanding motion tolerance and omnidirectional reading capability, the SF61B scanner keeps up with your workers by delivering incredible scan speed at any angle.
The SF61B easily integrates with existing data capture workflows and – with integrated Bluetooth wireless – easily pairs with iOS, Android and Windows Mobile smartphones and tablets.
Advanced imaging capabilities are built in, including data parsing, multi-code reading, and image/video capture.
 Integrated Bluetooth Class 1 radio enables wireless communication at ranges up to 100 m (325 ft).
 Field-replaceable battery endures over 20,000 scans on a single charge.
 Magnetic quick-disconnect system and variety of smart accessories, like wrist straps and belt loops, make it easy to access the device when needed.
Do you have questions or do you want us to call you?
Then send us an email – we are ready to assist you