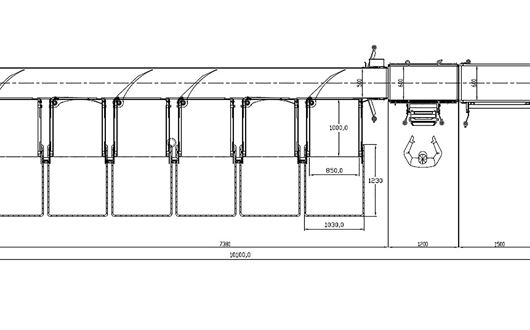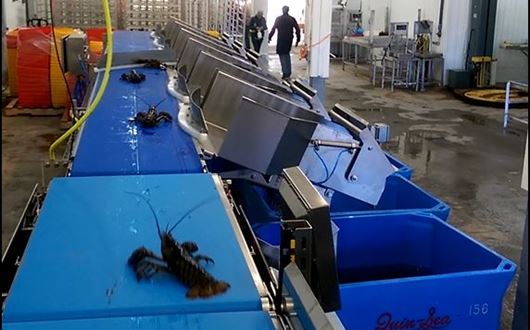 Application
This solution is designed for the fish industry. It offers high capacity and perfect accuracy in the sizing of whole fish.
Customer profile
Suitable for small, medium and large sized fish processing plants that require sizing, minimum batching and counting jobs for distribution to further processing companies. This is typically raw material that is iced continuously while packing in foodtainers, where there is a need for batch transfer results printed on labels.
Production
Suitable for harsh production environments, this solution efficiently sizes of whole fish e.g. cod, halibut, lobster, turbot and salmon with a maximum length of 900mm and a maximum of 15 kg.
Application
The system consists of a SP515 (SP510) Process Weigher in combination with a Scanvaegt Design Grader with chutes, that gently feed the whole fish into foodtainers. The system continuously accumulates the products' individual weight. This weight is used for calculating into which portion and foodtainer the individual product must be sorted. Once a batch has been completed, the push button next to the gate will illuminate indicating a complete batch. This ensures that the portion always reaches the minimum weight. Once the gate has been emptied manually and the push button activated, a label detailing the content of the batch will be printed and the system will automatically start collecting for the next batch. The function may also be programmed as a piece count portion.
Scope of delivery
Scanvaegt SP515 Process Weigher / Scanvaegt SP510 Process Weigher

Design Grader (Raw material)

BatchLabelPrint
System description
The Scanvaegt Design Grader is designed for the sizing of whole fish and gently sorting them into foodtainers with batch transfer results.
Scanvaegt SP515 or SP510 Process Weigher
A heavy duty automatic process weigher with a robust design and a state-of-the-art HMI, providing accurate product weight sizing, minimum batching and count.
Reliable design
The Scanvaegt SP515/510 Process Weighing System is based on a solid parallelogram design (patent pending) with overload protection, which protects the load cell and ensures reliable weighing results. The conveyor belt is driven by a strong and hard-wearing drum motor that can withstand use in the food industry.
User-friendly operator interface
The SP515/510 features a large 15" touch-screen with intuitive menus guiding the operator through query sequences using simple commands and ensuring quick, easy and error-free operation. The simple navigation structure, clear graphics and easy product setup reduce the time required during product changes. PlusFlex Production Management (an option) is a software application for reporting and real-time monitoring of one or more machines, as well as database management and product setups.
Highlights
Maximum weight control

Fast payback

High yield and low give-away

Easy to operate
Capacity and performance
Capacity SP515

Sizes up to 45 products/min

Capacity SP510

Sizes up to 90 products/min

Weighing capacity SP515

30kg/10g or 60 kg/20g

Weighing capacity SP510

6kg/2g or 15kg/5g
Do you have questions or do you want us to call you?
Then send us an email – we are ready to assist you