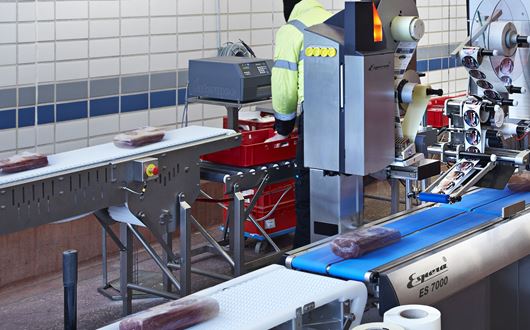 Scanvaegt designs a number of solutons for automatic labelling and sorting various products.
The solution may typically comprise:
an infeeding system with channeliser, positioning the product correctly for the label application
a labelling system, which weighs, prints and applies the label onto the product. The label can be placed on the top, side, bottom or across more sides of the product.
a sorting system, which sorts the product into pre-defined weight groups for subsequent packing. The sorting system may also reject defective products
a box labelling system for print and application of labels on the completed box
a pallet labelling station for print and application of labels on 2 sides of the pallet
a software package for order management, label design and communication/integration
We design and adapt the solution to the specific product type – e.g. products like flat salmon packages, round cheeses or fragile vegetables. This ensures reliable, gentle product handling and a very precise label placement.
Do you have questions or do you want us to call you?
Then send us an email – we are ready to assist you