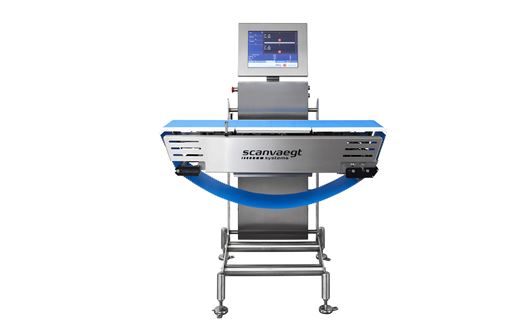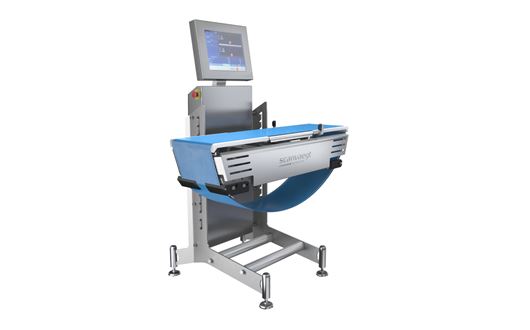 Scanvaegt
SC520 Checkweigher
Scanvaegt SC520 Checkweigher is the ultra-robust system for internal checkweighing control in wet food processing production environments.
The strongest weighing system
Featuring a robust and reliable design that can withstand use in even harsh production environments, Scanvaegt's SC520 Checkweigher is the ideal solution for checkweighing of bulk products in the wet food industry.
The automatic checkweighing system weighs and controls all products using sharp precision and high-speed and can be used for internal e-weighing before the packing process takes place as well as controlling the filling processes with feed-backward .
Regulating the filling process
SC520 Checkweigher can regulate input amounts in a filling process using feed-back signals. If the weighing system detects over- or underweight products, a signal is sent backward to the filling machine, after which the volume is increased or decreased in proportion to the predefined weight limits. This makes it possible to make quick corrections and avoid over- or underweight products.
Fast and stable
With weighing speeds of more than 340 items per minute, SC520 Weigher ensures high productivity. The design of the weighing machine, featuring slack-belt and pin-drive, provides fast and more stable weighing even in harsh production conditions while ensuring accurate weighing results.
Optimal durability
The checkweigher is made of high-quality components, which makes it extremely strong and durable. A hermetically sealed load cell in stainless steel combined with overload protection and an anti-shock system, protecting the load cell, prevent breakdowns and ensure maximum uptime.
Reliable design
Scanvaegt SC520 is characterised by high reliability. The weighing system is based on the solid parallelogram construction with overload protection, which protects the weighing cell and ensures reliable weighing results. The conveyor belt is driven by a strong and hard-wearing drum motor that can withstand use in the food industry. Its compact design makes it easy to integrate Scanvaegt SC520 in existing production lines. The process weigher is available with Slack belts, variable belt speed and optional conveyor direction allowing the SC520 to be adjusted to any product in any production line.
User-friendly operator interface 
SC520 features a large 15" touch-screen with intuitive menus guiding the operator through asking sequences using simple commands and ensuring quick, easy and error-free operation. The simple navigation structure and clear graphics and easy product setup reduce the time required at product shifts.
Open, easy-to-clean design
SC520 Checkweigher features an open design with sloping lines and surfaces and round pipe profiles. This makes it easy to clean the machine thoroughly and prevents the accumulation of dirt and bacteria.
Find more information about our checkweighers.
Smart features
Effectively regulates the filling process

Internal e-weighing before the packing process takes place

Quick corrections to avoid over- or underweight products

Suitable for harsh production environments

Sturdy, compact machine design

Open, easy-to-clean construction
Do you have questions or do you want us to call you?
Then send us an email – we are ready to assist you