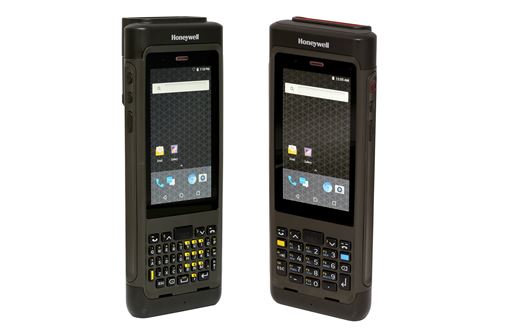 The
Dolphin™ CN80 Mobile computer
The Dolphin™ CN80 Mobile computer is designed for logistics, warehouse, and field mobility organizations. Built on the Honeywell Mobility Edge platform and
Android, the ultra-rugged Dolphin CN80 mobile computer combines touchscreen and keypad data input, real-time connectivity, and advanced data capture for industry-leading investment protection.
The Dolphin™ CN80 device offers both a large touchscreen and a choice of numeric or QWERTY keypad, allowing users to pick the best input method for their environment today, and also be ready for the touch-centric applications of the future.
The ultra-rugged Dolphin CN80 mobile computer features a fast processor, advanced network connectivity, and enhanced 1D/2D scanning plus extended battery life lasting twice as long as previous
generations to keep workers connected and productive throughout multiple shifts. The large, vivid, 106.7 mm (4.2 in) touchscreen display can be read easily indoors and out and used with finger, glove, or stylus – making it ideal for warehouse, cold storage, field mobility, and other challenging environments.
Smart features
User-friendly design

Validated by Android

Future secured with the mobility edge™ platform

Robust and compact design
Do you have questions or do you want us to call you?
Then send us an email – we are ready to assist you