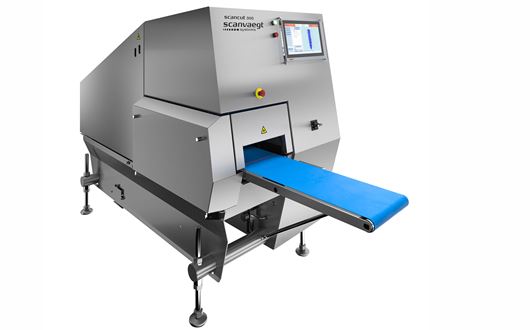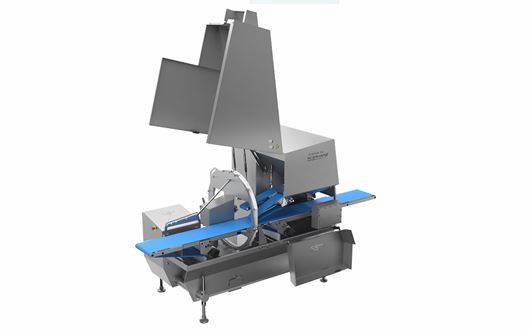 WORLD PREMIERE AT IFFA:
Presenting ScanCut SC300 Portion Cutter
We're proud to present the brandnew ScanCut SC300 – a new high-speed portion cutter with 3D laser scanning technology, designed specifically for cutting products into high-value portions with precise weight, ensuring high yield.
Precise portion weight and size
The SC300 is a dedicated meat portioning machine, which easily handles large boneless beef, pork and lamb products as well as whole round fish, e.g. salmon. Using 3D-scanning, the portioncutter cuts portions with fixed weight and/or length, while increasing product yield and reducing cutting loss.
High speed and high productivity
ScanCut SC300 has a cutting frequency of up to 1,500 strokes per minute, making the machine capable of handling cutting jobs with high speeds. This will improve the productivity and through-put of the processing line.
Keeping up high hygienic standards
The design minimizes the risk of residue sticking inside the machine and allows easy access from both sides of the machine for thorough cleaning, facilitating high hygienic standards.
Come see the SC300 at IFFA
Visit us at stand# D40G in Hall 9.1 (part of Danish Food Tech Group) – we're looking forward to hearing about your production needs and discussing possible new solutions.
Opening hours
4–8 May: 9 a.m. to 6 p.m.
9 May: 9 a.m. to 5 p.m.
More information about ScanCut SC300?
Follow this link for more information about the new ScanCut SC300 portion cutter for meat and whole round fish.
Info in Danish? Go-to Danish website here...
Smart features
Precise portions with 3D laser scanning

Reduced cutting loss

High cutting quality

Up to 1,500 strokes/minute
Read more about ScanCut SC300